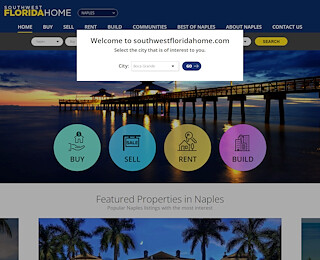 Five Characteristics Of Top Realtors In Bonita Springs
A realtor is a person who acts as a link between sellers of real estate or real property and the potential buyers. A realtor is a real estate agent who has a membership with the National Association of Realtors. Bonita Springs has a good number of them. But not every Bonita Springs realtor is a great realtor. Some are just average.
Below are five important characteristics of top realtors in Bonita Springs;
1) Passion:
Passion is not just essential in real estate, it is highly necessary if you wish to amount to anything in life. Steve Jobs once advised an audience to do that which they love doing, that way, even after years of being at that trade, it would seem like they never worked a day in their life.
Top realtors in Bonita Springs have a strong passion for what they do. Real estate is not an easy trade, it takes dogged determination and unflinching resilience to be successful. Top realtors love what they do. They sleep, eat, and breathe real estate. They get pleasure from interacting with clients over properties. They enjoy meeting new people in different neighborhoods.
Without strong passion, there is no way anyone can be successful in any enterprise, including real estate.
2) Excellent customer service:
Customer service is one aspect of any business that has the capacity to make or mar that business. Businesses have excelled above their competitors solely by delivering better customer service. It isn't always about the product, sometimes it is about the customer service. It is about how the customer service representative or agent address us or welcomes us.
Top realtors in Bonita Springs provide excellent customer service. They return calls promptly, they send emails whenever necessary. Basically, they serve you the way you wish to be served. If you want a regular update on how your property is performing via calls, they give it to you. If you prefer it via emails, they provide it. If you want to Skype, you will find them. They don't give you a reason to reconsider your option. They know exactly what it means for the customer to be king.
3) Technology savvy:
How can you provide your clients with the latest updates via phone, text, email, Skype, Facebook updates etc., when you don't have any idea how the latest technology works? These realtors are technology savvy; they are in tune with the latest technology. They are aware they would have to deal with a wide variety of clients from different backgrounds and generations, and each of these people has specific inclinations. To keep them, you have to speak to them in the language and manner that they understand.
4) They know their onions:
To be successful in any endeavor you must be a master at it. People hardly ever stumble on success, it takes time, learning and expertise to reach the pinnacle of success. Top realtors know their onions, they are familiar with the neighborhood that they cover. They know it like the back of their hands. Mention a neighborhood and they will tell you what property is for sale or which is for lease in the neighborhood. They don't need maps, they are a walking talking map. They know what can sell in what area and what can't.
5) They keep their clients informed:
These realtors keep their clients informed about every of their moves. If a property is performing well they let their clients know, and if it is fairing badly they do the same, using the favorite means of communication of the clients. This act of regular updates gives clients more confidence and allows them to be more comfortable.
Bonita Springs Realtor
We welcome your comments!