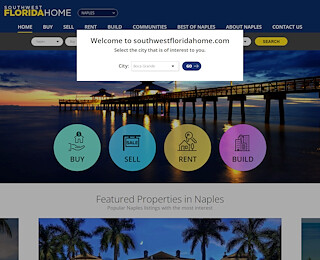 There are so many advantages and exclusive amenities that you can experience when you make the exciting decision to relocate to the beautiful state of Florida. Although the entire state has much to see and extensive places to visit, the south west area of the peninsula is something that most people in the country can only dream of residing in, with its impressive opportunities and adventures that truly are unique and extremely rare to experience, let alone to be able to live in on a permanent basis. When you decide to start searching for Estero homes for sale, the professional sales experts at Southwest Florida Home will match you with the lifestyle and amazing home listings for you to choose from.
Southwest Florida Homes is known as the number one rated real estate agency that has the most exclusive and sought after Estero homes for sale, here, and throughout the surrounding communities. When you choose to make this charming village your year-round permanent residence, you will quickly realize that acquaintances become friends, and exciting adventures rapidly become a way of life. Simply imagine waking up to a breathtaking sunrise as you relax in your Florida room, sipping on coffee and feeling the balmy breezes that come off from the gulf and wrap you in a feeling of bliss and peacefulness.
Many potential home buyers feel that they would be much more pleased with their new home, if it included a screened-in backyard pool for them to enjoy and float about in. Many, if not most south west Florida homes include refreshing and sparkling clear pools for their new tenants to indulge in. Because of our year-round tepid temperatures, pools are accessible throughout the entire year, and don't need to be closed down for the "winter" season. So, imagine opening your Christmas presents, or celebrating with your Hanukkah lights, and then diving into your very own pool for a real holiday tradition.
In southwest Florida, between Fort Myers and Naples, the village of Estero has remained a basically private community. The community is home to vast retail buildings including the Miromar Design Center and Miromark Outlets, and in addition, several large shopping centers and mixed-use groups. Estero Bay separates Estero from a large number of the close-by Gulf of Mexico shorelines, however inhabitants and guests of the region can take advantage of several shorelines inside a 35-minute drive. Other accessible beaches can be visited in just a fifteen minute excursion.
If you feel that this may be a place that you would truly like to reside in, with all of its amenities and offerings that are available, Southwest Florida Homes would be proud to show you our selection of Estero homes for sale that we represent. At southwestfloridahomes.com, you can view some of the most enchanting and outstanding houses, from the privacy and comfort of your home. On our home page, you can leave your contact information, and a message regarding your interests. Please call us at 239.214.7900, for further information.
Estero Homes For Sale
We welcome your comments!