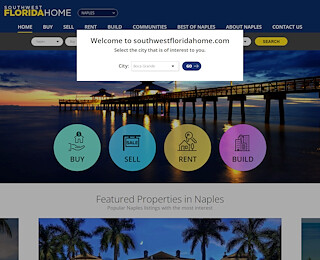 Why You Need To Invest In The Naples, Florida Real Estate Market
Naples Florida real estate market is always booming and judging by the statistics on ground, it will continue to boom for the next half decade. This is the best time for smart investors to cash in on the ever increasing values of homes in Naples Florida Real Estate.
Naples Florida real estate gives a good return on investment. It pays more to rent out the entire homes in Naples as it is more profitable. The demand for renting of apartments usually peaks, starting from March to May. It drops slightly in June to August but by late August, it begins to pick and it will be on the increase till October.
Another reason you should invest in Naples Real Estate market is that there are several upcoming projects which means there are more jobs and more jobs will lead to more people coming in either as visitors or as residents (temporary or permanent). Increase in population can only mean one thing – higher demand for accommodation. So why won't you be smart enough to invest your money now?
Three reasons to invest in Naples Florida real estate market
There is bound to be more jobs
There are over thirty developmental projects emerging in Naples and more will also be initiated soon. These projects mean more job opportunities. When there are more job opportunities, more people will begin to troop into the city. Some will come as temporary residents to work on contract while some people will relocate completely. But most of all, a lot of visitors will be coming in.
Increase in population
Obviously, this will lead to a drastic increase in the population of Naples. When population increases, there will be higher demand for accommodation. Simple economics has it that when demand of any product increases, the price should also increase. Hence, further increase in the prices of buying or renting an apartment in Naples should be expected. This is an opportunity for investors to make a killing.
More business opportunities
According to businessmen, increase in population in a city is actually an increase in the number of prospective customers to companies around. Therefore, the expected increase in the population should be an opportunity to make more customers. This should be a push to organizations to open offices in the city since higher population means more customers.
Choosing a realtor in Naples
However, you will get the best deals if you invest through an experienced and reputable Naples realtor. This is why your choice of real estate agent is very important. Here are the factors to consider to get the best deals.
Talk to about three real estate agents first
To be able to make great comparisons, it is advisable to contact at least three agents before selecting one of them. This will give you room to be able to compare terms of service.
Experience
Always consider experience ahead of other qualities. An experienced realtor will often get the best deals first. Besides, experienced realtors are usually well informed in the industry, so they usually get an offer before it is placed on listings.
Online review
Before hiring a real estate agent, you might want to search online for reviews about the agent. You need to flee from any agent with a lot of bad reviews.
Naples Florida Real Estate
We welcome your comments!